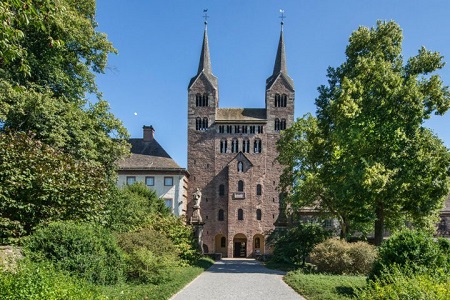 Community excursion…
Group offer from 2 nights
Breakfast and half board included
Trip to culture country Höxter
Bus ride and tickets included
… in the monastery region Kulturland Kreis Höxter
God's good blessings be with you! To protect you, to support you in your ways. (Rolf Krenzer)
Whether as a community trip, seniors or Messdienerfahrt, as a women's outing, parish council or Kirchenvorstandsfahrt.
3 days two nights including program:
Day 1: Arrival and check in at the Hotel Schloß Gehrden, former Benedictine monastery in the Kulturlandkreis Klosterregion Höxter.
Guided hike incl. visit of the Romanesque monastery church, dinner, cozy end in the fireplace room or terrace.
Day 2: Breakfast, by bus to the UNESCO World Heritage Site Corvey in Höxter including guided tour of the monastery, castle and museum.
Free time in the historic half-timbered town Höxter or hike a piece of the Way of St. James, which leads through Höxter,
Dinner at the castle Gehrden, then by bus to Warburg for the night watchman tour through the beautiful medieval Hanseatic city.
Day 3: Breakfast and check out, by bus to Borgentreich to visit the largest historical baroque Springladenorgel Westphalia
including guided tour of the first organ museum in Germany. After returning from Borgentreich you will start your journey home.
Complete price: 248 Euro p. P. in double room or 288 Euro p. P. in the EZ
including 2 nights in a double room with half board, excursions, bus trips to Höxter, Warburg and Borgentreich, entrance fees
Extendable to 5 days in a double or single room p. BB p. Pers. 49,00 € or with HP p. Pers. 68,00 €
Further program design after arrangement, we look forward to your inquiry.
contact us